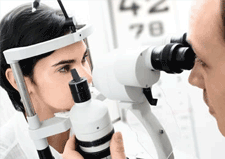 Welcome to Eye Care Center
Dr. Pierre Mardelli and all the staff at Eye Care Center are proud of the care we provide our patients. We have dedicated ourselves to delivering the very best medical care, and we are proud to be recognized as a center of excellence in Beirut.
We offer comprehensive medical and surgical eye care, including:
Laser and non-laser surgical vision correction including PRK and LASIK
Cataract and lens implant surgery
Glaucoma management and surgery
Corneal transplantation
Corneal Rings implantation
Intraocular contact lens (ICL) implantation for myopia, hyperopia and astigmatism
Medical consultation and second opinions
Routine eye examinations
Contact lens fitting
Emergency eye care
Corneal topography
Visual field testing

Retina and diabetic eye screening and management
Fluorescein angiography
Spectral Domain OCT
Argon and Yag lasers
Lens implants measurements
Treatment for keratoconus using Collagen Cross-linking with Riboflavin A
Treamtnent for blepharitis and other eye conditions
The one and ONLY iDesign Advanced WaveScan Studio System in the region.
A graduate of Saint Louis University Medical School, Dr. Mardelli is a board certified ophthalmologist with double fellowship training in the treatment and surgery of glaucoma and the diagnosis and treatment of ocular surface disease . He served as a fellow with the world-renown ophthalmologist Dr. Joseph Tauber in Kansas City where they focused on the treatment of Dry eyes, a now pandemic condition. He also worked with the pioneers of refractive surgery in the United States and the first surgeons to perform excimer laser treatments in Kansas City where the Eye Foundation of Kansas City housed the second Visx excimer laser in the USA. After finishing his residency in Kansas City he moved on again to Saint Louis but this time across town to Washington University as a fellow in glaucoma under the direction of Dr. Michael Kass, now the chair of the department and the head of the Ocular Hypertension Treatment Study (OHTS) where he was one of the investigators in this landmark study. His colleagues often call upon him to consult on difficult cases and help manage complications of many eye procedures.
In addition, Dr. Mardelli is a internationally recognized authority on the treatment of glaucoma. Eye Care Center offers the most current testing and treatment of glaucoma available anywhere.

Our main office is located in the prestigious Specialty Clinics Ctr near the American University of Beirut opposite the Geffinor Center at 102 Maamari St., Suite 1A and 1B in Ras Beirut.
All appointments are scheduled through our main office, which can be reached at:
(+961)1-74 70 78 or (+961)1-74 70 79
We invite you to visit Eye Care Center and experience our commitment to helping you achieve your own personal best vision. See for yourself why our patients turn to us for the best eye care treatment available.